After Christmas two other YASCers - Jacob serving in Springs, South Africa (up near Pretoria and Jo'burg) and Andy serving in Dodoma, Tanzania - joined Thomas and me at Anhouse for a week of vacation and fun. It was so nice to see some familiar faces and hear about their experiences beyond what I've read on their blogs and social media.
It was also nice to have a week away from the office to enjoy more of what Cape Town has to offer. Since I jumped right into my work here, I haven't felt like a tourist very much. Being with three other Americans and doing all the touristy activities here, it was impossible not to feel that way. But as the only one who lives in Cape Town, I also played the role of tour guide - using my limited knowledge to help us make plans and to share cultural learnings.
On the day after Andy and Jacob arrived, we decided to hike up Table Mountain. I wasn't sure I was up to the challenge at the time, but everyone was keen and I knew we might not get another good chance. It ended up being well worth it - both for the sense of accomplishment and the amazing view.
After a long hike to the top, we were happy to take the cable car back down even though it meant waiting in a long queue. I was surprised by the drastic weather changes as we shifted elevation. It was incredibly hot getting started, but we got lost in a cloud of fog and cold as we reached the gorge. We emerged from the fog at the top to find sunshine, and we were able to look down at the fog rolling beneath us. When fog forms just on top of Table Mountain, it's referred to as its tablecloth.
For Tuesday and Wednesday we bought a 2-day pass for City Sightseeing Cape Town, known as the Red Bus Tours. There are four routes: a Yellow downtown route, a Red city route, a Blue peninsula tour, and a Purple wine tour. You can hop on and off at any stop along the routes.
We started with the wine tour. Tim, the other YASCer in South Africa serving in Grahamstown, joined us along with his girlfriend Henley who was visiting at the time. We hopped off at a popular winery and restaurant Groot Constantia and enjoyed touring the winery, learning its process, and tasting its wine - followed by a delicious lunch at its restaurant. It was great seeing Tim and getting to know Henley.
Group selfie at the vineyard
We changed routes, and Jacob, Andy, Thomas, and I took the Blue peninsula tour back to the city, learning lots of fun facts and history along the way. The next day we did the Red and Yellow routes in the city, and the recordings were really interesting and informative. Andy and I visited the District Six Museum while Jacob and Thomas toured the Castle of Good Hope. That evening the crew (minus a very sleepy Thomas) caught the sunset at Signal Hill, one of my favorite things about Cape Town.
Jacob enjoying the sunset
On New Year's Eve we started at the Two Oceans Aquarium, with an impressive focus on environmental conservation and education. There were also some adorable penguins. We had lunch next door at the V&A Food Market, a phenomenal collection of local vendors serving basically every dish you could want. Jacob and Andy tried to get me to eat caterpillar with them, but I wasn't quite as brave as they were. We also explored the Watershed, a large space for talented South African artists and designers to sell their work.
That evening we went to Kirstenbosch Botanical Gardens to watch Jeremy Loops, a phenomenal South African music artist, perform a New Years Eve concert. He put on a great show and got the crowd dancing and singing along. It was a great way to ring in the new year (and avoid the traffic downtown)! You can find Jeremy's music on Spotify or YouTube, so you should definitely check him out!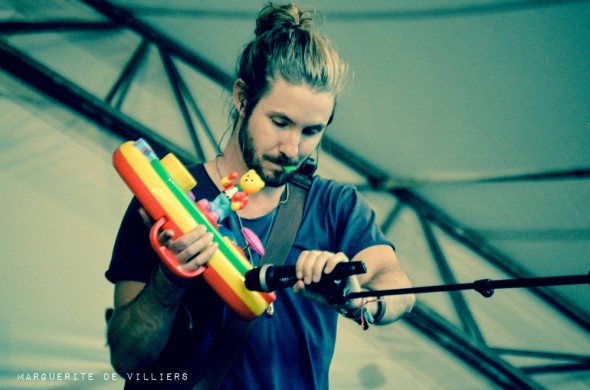 Jeremy's less conventional instrument
On New Year's Day we decided it'd be a great idea to take the train to Simon's Town to visit the penguins at Boulder Beach. It ended up being a mild disaster. I've never seen so many people in such a small space in my life as were crammed into the train that day. We also didn't realize that the train wasn't going all the way to Simon's Town until we found ourselves stranded three stations away in an unfamiliar area - too far out to catch a cab. We were fine, but it was certainly stressful. We decided to give up on the penguins and take the train back to the beach in Muizenburg. Of course we didn't realize that every Capetonian had the same idea. When we saw the crowd on the beach, Andy reminded us of how God told Abraham that his children would outnumber the grains of sand. This certainly seemed to hold true on the beach that day. The ocean on that side of the Peninsula is warm compared to the frigid Atlantic waters on the other side so despite the setbacks we managed to spend a couple of nice hours there before heading back to clean up for dinner.
The next morning we went to the Neighbourgoods Market, taking place each Saturday at the Old Biscuit Mill in Woodstock. It is home to delicious foods and local art, clothing, and other goods.
January 2 is known as Tweede Nuwe Jaar, Afrikaans for "second new year." Each year the streets are blocked downtown for the Kaapse Klopse, or the Cape Minstrel Carnival. The festival has its roots in slavery, as the ancestors of the coloured population were given the day after New Years as a day of rest, forcing them to celebrate the new year on the second rather than the first of January. The parade tends to start much later than scheduled and this year was no exception (we waited for three hours), but the Kaapse Klopse can be seen marching all day in colorful costumes and face paint, dancing and playing music.
That evening we went to Marco's African Place, a popular local restaurant in Bo Kaap, where we had some traditional cuisine and interesting conversations, enjoying our last night together in what proved to be a short week.
These are just some highlights. We also visited a rooftop pool, a Mesopotamian restaurant, malls, and a movie theater (the boys were dying to see Star Wars). I realized how lucky I am as the only one who has access to these luxuries any time I want. While I was startled at first by locals who take Cape Town's beauty for granted, I realized that I am now guilty of this sometimes too and it was refreshing to see it through others' eyes.
Looking back on 2015 it occurred to me that some of my dearest friends are those who I met in the last year. I've only spent less than a month total with most of the other YASCers, but we've already shared these amazing and challenging experiences. Even though we are alone in our placements, we have this amazing network of friends all over the world. I'm so glad that I could ring in 2016 with some of them, and I'm looking forward to seeing what this year will hold.
Last year was overall probably the best one of my life, and I'm grateful for everyone who played a role in making it great. Thank you. I know it's belated, but happy new year! I hope your 2016 is filled with laughter, love, and growth.
xo, Lace